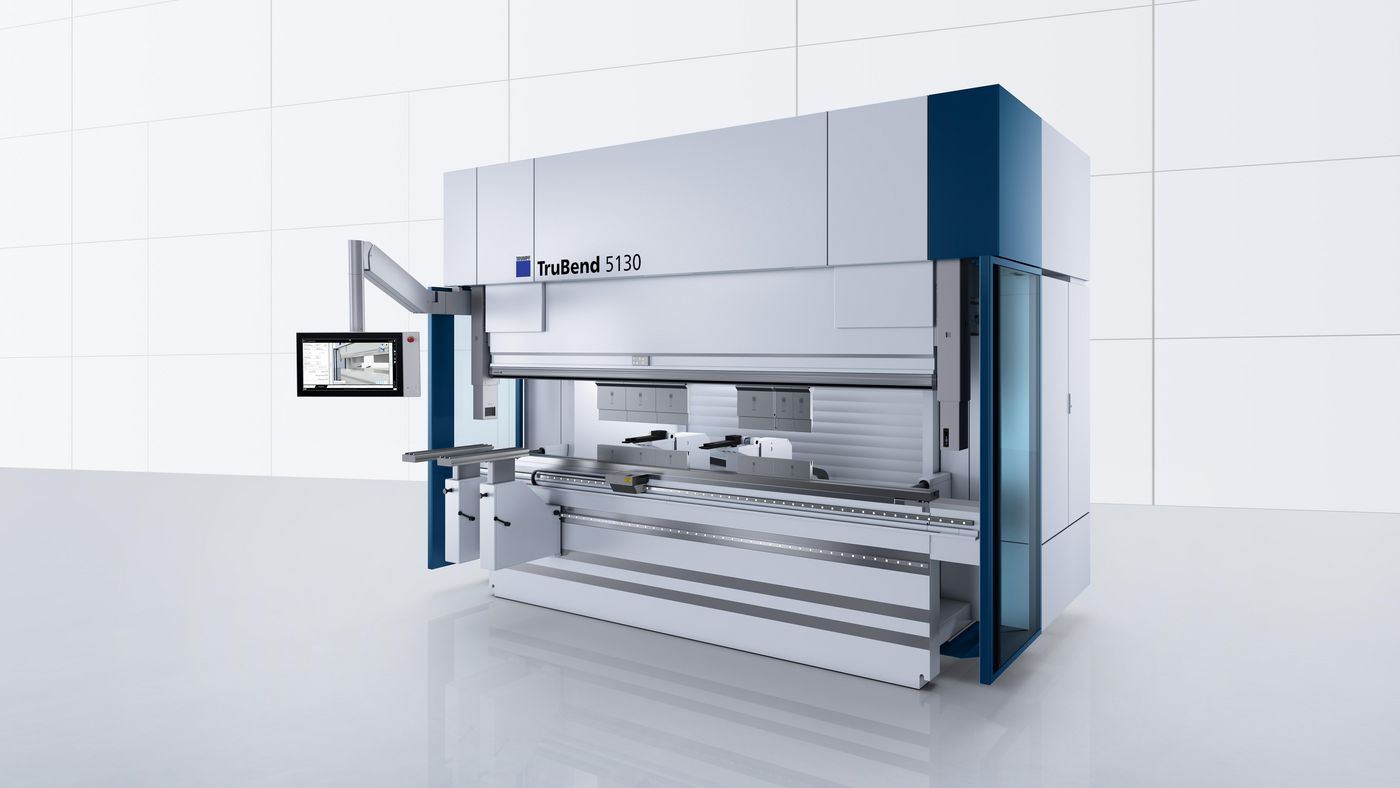 Description
TRUMPF bending machines stand for wide-ranging experience and pioneering innovation. The extensive portfolio includes machines for die bending and panel bending, as well as large-format bending tools and fully automated solutions. There is a wide range of options available for each bending technology to suit your specific application. With TruBend metal bending machines, you can precisely and cost-effectively produce simple or complex parts in any format. You always benefit from excellent part quality, increased flexibility, innovative tools, well-thought-out automation solutions, and intelligent software from a single source. TRUMPF focuses on operability and ergonomics to ensure the machine supports the operator in their work as much as possible.
Description
TruBend 5000 Series
The TruBend Series 5000 combine innovative technology with precision. They are flexible when you need to bend a variety of parts. The entire bending process from programming and tool set up to bending itself, is extremely productive. In addition, you can automate these machines using the BendMaster. From the geometry to the NC program faster than ever before. TruTops Boost programming softwareis the one-of-a-kind software for 3D design and programming of laser, punching, and bending machines, which boosts your performance at the touch of a button. Become more profitable and boost your business. 
Overall Productive Processes
The TruBend Series 5000 is TRUMPF's most successful bending machine worldwide. This means from programming, to setup, to bending, production productivity will be unmatched. Innovative features such as the lower tool displacement and the 6-axis backgauge provide you with complete production freedom. The operator's work is made easier by numerous innovations such as the control concept, which is a revolution in its simplicity and intuitive use.
Variety of Machine Options
ACB Wireless Angle Measuring System: The user-friendly ACB (Automatically Controlled Bending) Wireless measures and corrects angles using the sensor disks which are integrated in the upper tool. The system automatically detects the position of the sensors; the communication between the tool and control is wireless.
ACB Laser Angle Measuring System: With the ACB laser, you use a non-contact, optical system for angle measurement. A laser projects a line onto the sheet, and a camera detects the angle. For this, two measuring units are automatically moved to the right position.
Support Brackets: Support brackets with variable height adjustment make component handling easier. The robust support brackets have a high load capacity and are available with different supports.
Bending Aids: The practical bending aid including automatic height adjustment provides valuable help for angles up to 30°. It supports you in the bending of heavy or large parts, in particular. You have a choice of synthetic, brush, or roller supports.
Wireless Foot Pedal: The TÜV-tested wireless foot switch provides more freedom of movement and eliminates the risk of tripping for the operator.
Part Indicator: Simplify the insertion process for the operator and reduce rejects at the same time – the camera-supported solution, Part Indicator, shows the machine operator how they have to insert the bending part on the monitor of the machine control. 
MobileControl Pro: Enables the entry of important parameters directly at the machine (e.g. bend pre / back, adjustment value). It offers quick navigation with the turn & press wheel entries that are transmitted to the control. Consists of 6 keys, a turn & press wheel and a 3.2 inch color display. The MobileControl Pro is placed anywhere in the communications rail and reduces the walking distance to the control for adjustments.
Tool Setup Optimizer: Available on the control of the TruBend 5000 and 7000. This optional software module optimizes daily production to reduce to the fewest number of setups that are required. The software will look at all parts that will be run that day and try to create common setups for operation.
Specifications
 

TruBend 5085

TruBend 5130

TruBend 5170

TruBend 5230

TruBend 5320

Press Force

94 Tons

141 Tons

187 Tons

253 Tons

353 Tons

Bending Length

87"/ 107"

127"

127" / 167

"

127" / 167"

174"

Distance Between Housings

69" / 89"

106"

106" / 145"

106" / 145"

145"

Open Height

15" / 24"

15" / 24"

24"

24"

24"

Stroke

8.5"

8.5" / 17.5"

17.5"

17.5"

17.5"

Throat

16.5"

16.5"

16.5"

16.5"

16.5"

X Axis Travel

24"

24"

24"

24"

24"

X Axis Gauge Depth

34"

34"

34"

34"

34"

R Axis

10"

10"

10"

10"

10"

Speeds

 
 
 
 
 

Y Rapid

520 ipm

520 ipm

520 ipm

520 ipm

520 ipm

Y Bending

24-48 ipm

24-48 ipm

24-48 ipm

24-48 ipm

24-48 ipm

Y Return

520 ipm

520 ipm

520 ipm

520 ipm

520 ipm

X Axis

590 ipm

590 ipm

590 ipm

590 ipm

590 ipm

Z Axis

2,362 ipm

2,362 ipm

2,362 ipm

2,362 ipm

2,362 ipm

Precision

 
 
 
 
 

Y Axis

.0002"

.0002"

.0002"

.0002"

.0002"

X Axis

.002"

.002"

.002"

.002"

.002"

Connected Values

 
 
 
 
 

Electrical Load

19 KVA

27 KVA

32 KVA

45 KVA

50 KVA

Oil Capacity

32 gal.

58 gal.

58 gal.

87 gal.

111 gal.