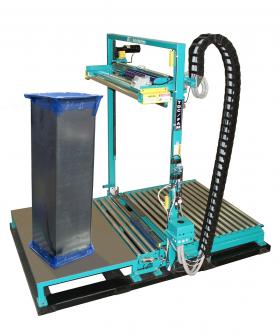 Description
HVAC contractors involved in new commercial building construction have to address far more air quality and system contamination concerns than in the past.

SMACNA Duct Cleanliness § 3.4.1(b) guideline provides instructions to protect the air handling system and reduce duct contamination during fabrication, shipping, staging and construction.

The TDC - FAM machine is designed to satisfy SMACNA guidelines by attaching self-adhering surface protection plastic film to both the top and bottom straight duct at the same time.
Description
Using this plastic cap on all unfinished ends helps prevent moisture, dirt and dust particles and other construction debris from contaminating the clean inside airstream of the ductwork.
For most shops, the TDC-FAM will achieve a less than one year payback through significantly less material handling, better organization and space utilization in the film application process.
Features:
Subject to large duct material handling - one man operation
Wraps both duct ends simultaneously and conforms to the shape of the duct
Rods square up the duct and apply film to leading edge of duct on both top and bottom
Fully automated film cut-off system using precision sensors and timers
Handles many types of duct flanges – TDC, TDF and other rollformed and slip-on 4-bolt connectors
Upper head quickly and easily adjusts via electric motor to accommodate 18" to 60" duct lengths.
Easy load upper and lower film roll supports quickly adjust from 24" to 48"
The thin scrolled knife blades are pneumatically powered for a fast smooth action and are hardened for long life and clean cuts
The upper and lower duct wrap film rolls are core supported from each roll end by a slide-in mount for easy loading